If you're looking to improve the appearance of your smile, dental bonding may be just the ticket. Here, we take a look at some common questions regarding the procedure.
What is dental bonding?
Dental bonding uses a composite resin to fill in spaces in the teeth, such as cracks and gaps. It's also used to lighten discoloration and even out crooked teeth.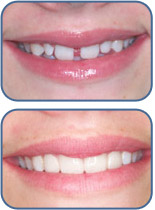 Who is a good candidate for bonding?
Anyone suffering from cracked, discolored, uneven teeth, or small gaps. Dr. Ballard will perform a complete oral health exam to determine whether this procedure is right for you. You are discouraged from smoking after a dental bonding procedure, as this yellows the resin rather quickly. If you are a smoker, you will need to discuss this with Dr. Ballard before opting for dental bonding.
What are the advantages of bonding?
Bonding creates a pleasing appearance, and is less costly than some other cosmetic dental procedures, such as crowns or veneers. It's also less time consuming—in most cases taking only one office visit. Bonded teeth require no special care; just continue to practice good dental hygiene like brushing and flossing the teeth.
Are there any disadvantages?
The only major disadvantage of dental bonding is that the materials used are not as resistant to stains as other traditional means of tooth correction, like porcelain veneers.
Is it permanent?
No. While much longer-lasting than some other cosmetic dentistry procedures, it is not permanent. Bonding typically lasts anywhere from three to seven years, after which time the process will need to be repeated. It's important to practice good dental hygiene to increase the lifespan of your dental bonding.
What happens during the bonding procedure?
During the initial consultation, Dr. Ballard will discuss the process with you, map out a plan based around your specific issues and set up an appointment. The actual bonding process begins with the application of an etching agent that creates a textured surface. This prepares the teeth to accept the bonding materials. Next, a thin layer of a plastic-like material is applied to the front side of your teeth. Then, the bonding material will be placed on your teeth, sculpted into a desirable appearance, and colored. For single tooth bonding, the tooth will be colored to match your remaining teeth. A light featuring a high intensity beam hardens the resin, and the teeth are polished. The entire procedure takes no more than a few hours.
Is it painful?
Not at all. Bonding is completely painless, and does not require anesthesia unless a filling is being placed as well. A few patients reported an increase in tooth sensitivity for a short period after the bonding procedure. Call (404) 261-0610 to schedule an appointment.

Dr. Ballard,
I want to thank you so much for your generous gift to me of time, service and care. Your willingness to help me was such a mighty example of the Lord's provision. May He richly bless you and your family!! And… I wanted to thank you and your entire staff for the best experience I've ever had at a Dr. visit of any kind. You all manage to be highly professional and highly personable. Throughout my entire time in the office, I always felt valued and cared for as an individual. Keep up the awesome work!! Thank you so much!
– Mindy