Cosmetic Dentistry Treatment in Atlanta, GA
Nothing makes a big first impression quite like a smile. A good smile can convey a person's personality and boost their self-confidence. Not only do you feel better about yourself, but other people feel better when you smile at them, too. That is why cosmetic dentistry has become an increasingly important field over the years, not only for movie stars or TV personalities, but also for everyday folks.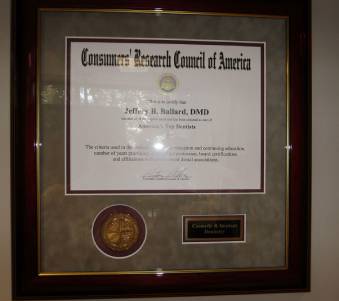 This is why, if you're looking for a skilled and reliable Atlanta cosmetic dentist so you can finally stop being self-conscious about your smile, then Buckhead Dental Partners is available for all your needs. Dr. Jeffery Ballard, DMD has several decades of experience and a fantastic dental team excited to help you achieve a beautiful smile. He provides the best quality Atlanta cosmetic dentistry by continuously investing in the most modern equipment and techniques and adapting them to his practice. We are constantly on the lookout for the best interests of our patients. So, if there's a faster, healthier way to get the smile that you want, we do just that. Our Cerec machine allows us to provide dental crowns in just one day! No more back and forth visits days and weeks apart. We can do it all in one visit.
Cosmetic Dental Conditions That We Treat
Cosmetic dental conditions may include discoloration of the teeth, chipping of the tooth enamel, and crooked or overlapping teeth. You may even have suffered losing a tooth or two due to old age or through an accident. In extreme cases, such conditions can cause embarrassment or insecurity. With our help, you can have a full set of teeth that is beautiful and straight once more. Whether you opt for tooth whitening, dental implants, bite correction, or any other procedure, you are assured that our Atlanta cosmetic dentists have the commitment to help you in improving your smile.
Patient Education
We always see to it that patients are informed about their oral health. For every procedure, Dr. Ballard takes the time to explain their diagnoses and discuss the corrective options available for his patients. Buckhead Dental Partners believes that when all of a patient's concerns are answered, the dentist is better equipped to provide them with what they need. We also believe that patient education is also necessary, so that they can continue exercising proper oral care at home.
Cosmetic dental conditions can also affect children. Aside from their obsession with candies and other sweets that can result in early discoloration and tooth decay, the habit of thumb-sucking in babies and toddlers may lead to the development of a malformed bite. This is why our Atlanta cosmetic dentists urge parents to have regular check-ups for kids as young as one or two years of age. Our children's dentistry services guarantee a fun and reassuring environment for kids about to experience their first dental visit. Since we're a family dental practice as well, going to the dentist can be a family affair. Mommy, Daddy, Grandma, Grandpa, and all the kids can get their teeth checked and cleaned twice a year here at our office.
Get in Touch
Cosmetic dental procedures at Buckhead Dental Partners are done with the utmost regard for patient comfort and convenience. Call or visit our office today – your best choice for Atlanta cosmetic dentistry! You can find our number above! Alternatively, you can also fill out the contact form and someone will be in touch with you shortly. Whatever you decide to do, our friendly cosmetic dentistry support staff will be waiting to hear from you! Book your dental appointment today.

Dr. Ballard,
I want to thank you so much for your generous gift to me of time, service and care. Your willingness to help me was such a mighty example of the Lord's provision. May He richly bless you and your family!! And… I wanted to thank you and your entire staff for the best experience I've ever had at a Dr. visit of any kind. You all manage to be highly professional and highly personable. Throughout my entire time in the office, I always felt valued and cared for as an individual. Keep up the awesome work!! Thank you so much!
– Mindy
I know your office must get emails all the time, telling you how wonderful you are. However, thinking it's always nice to hear. I really wanted to take a minute to thank you. I came to you, with teeth that I was ashamed of. There was never a moment when anyone made me feel less than the most important patient. Your staff is beyond amazing, so caring, so welcoming. We fixed years of deterioration. Dr. Ballard is the most caring dentist I've met… and I've had many. He explained the procedure, made sure I was fully informed of what needed to be done. Everyone ensured that my experience was the least painful it could be. I expressed my joy at my new smile in person… however, I cannot express enough, how this smile had changed me. So many friends have commented on how much I smile now. I feel confident and pretty. You have my deepest appreciation, not only for the skill all of you have, but also for the care you give to your patients.
- Shawna
This is a great practice! My husband and I have been going to Dr Ballard for more than 12 years. His work is fairly priced and they always seem to be using the latest technology. He does a good job of extending the life of your current dental work as far as possible and only recommends new work when it's absolutely necessary. This latest visit was an emergency - one of my crowns fell off - and he got me in at 7am to fix me up and get me smiling again. I was so appreciative they were able to see me so quickly. All the staff are friendly and very capable. I recommend this practice unreservedly!
~Katherine
I think Dr. Ballard is one of the best dentist in the Buckhead area. He has an amazing Chair side manner and he's caring and compassionate about you in your life. He has been my dentist for the past five years and I would not switch to anyone else. His staff is wonderful always ready to answer any question that you have. My dental hygienist, Dawn, is amazing.
~Norma
Dr Ballard is amazing. I had a problem with a crown that he took care of immediately. I showed up. Spent 30 seconds in the waiting room. Was sitting in the chair for about 30 seconds and boom! Dr Ballard was there working on my tooth. 30 minutes later I was out the door all fixed up. Very professional and a great experience.
~Luke
Excellent dental office for all oral work from regular cleaning to crowns made in the office in one visit. They are professional, friendly, and knowledgeable using all of the latest technologies!
~Jim
I have been a patient of Dr Ballard's for several years. He is a phenomenal dentist, and I highly recommend him. He always takes his time to see me and examine whatever they are watching carefully. He is always professional, thorough and makes sure to answer any questions I have. On the few occasions I have had to have a procedure (one crown and a filling)- Dr. Ballard is excellent and makes the event as easy and pain free as possible. Monica is my hygienist and has been cleaning my teeth for many years. She's wonderful!! My teeth always look and feel great when she is done doing her thing. I now live in the 'burbs but drive into Atlanta for my dentist. They are that good! I highly recommend this practice- they are the best in town!!
~Monica
The first word that immediately comes to mind concerning my experience with Dr. Ballard is simply "incredible"! My initial call to make an appointment was met with sincere concern for my plight. I had broken portions of my two front teeth, and I was new in Atlanta. I was told that they would try to work me in for consultation that very day. They did! Despite his full schedule, Dr. Ballard was able to repair my teeth within the hour! They now look better than they ever did!!! Impressive!
~Laine
Dr. Ballard is the only dentist I trust for my complicated dental problems. He is amazing! He & his entire staff are friendly, kind, & professional.
~Lori
No one likes to go to the dentist but coming here makes it totally bearable. I trust them totally and there is no wait time. The staff and Dr Ballard are super nice and you really feel like you are in the best hands. I love the fact that they can do a crown right on the spot. No second appointment needed. Dr Ballard is an amazing dentist and everyone in the office is skilled and knowledgeable.
~Francoise
Dr. Ballard is professional yet personable. His work is impeccable. Whether it's filling a cavity, repairing another dentist's work, or performing a root canal, you can rest assured it will be done with care & excellence. His staff is fantastic. I'm always treated like a person, not just a source of income. It's a wonderful place to be.
~Joy
The finest people, who really care about you and the quality of care. Dr. Ballard is someone I absolutely trust, his team stays for decades to work with him, and I take my children here too. You can't find a better quality and service in dentistry in Atlanta, or anywhere.
~Steve
I'm very pleased to recommend Dr Ballard and the fantastic staff of Buckhead Dental Partners. They always take extra steps to make sure I'm well cared for and well accommodated. I look forward to any visit whether it's for routine cleanings and exams to crowns or fillings- everything is painless. Professional in every way with the latest advances in dental technology and yet they're just like old friends. I have been a patient there since 1995 with absolutely no complaints. They will truly cure the stigma of fearing a dental visit and I trust the staff and Dr Ballard can do the same for anyone. They get five stars indeed!
~Rick