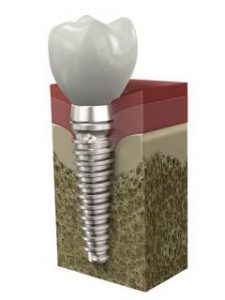 If you're here, you've most likely heard enough about dental implants to pique your interest. If you have lost a tooth at some point in the past and want to replace it, dental implants should be on the list of procedures you're considering. They are the tooth replacement that most closely approximates natural teeth.
Fundamentals of Dental Implants
In the early 1950s, it was discovered that titanium implanted into living bone tissue would fuse, or osseointegrate, with the bone. Since that time, the medical and dental fields have taken advantage of this property, resulting in technologies like dental implants.
Dental Implants:
look and feel natural
reduce the risk of bone loss
are made of biocompatible materials
return up to 95% of the natural tooth's function
can be used as anchor points for multiple crowns or even whole arches of dentures
require the same care as your other teeth
Who can benefit from dental implants?
To be a good candidate for dental implants, you must first be in good enough health to undergo a surgical procedure. Sufficient bone mass is an important consideration. Certain medical conditions may keep you from getting dental implants. If you:
are young enough that your jawbone is still growing
are pregnant
smoke cigarettes
have osteoporosis or other bone loss
have connective tissue disorders
are diabetic
have hemophilia
you may not be a good candidate for dental implants. A consultation with one of our dentists will determine if dental implants are right for you. If not, don't despair, we have plenty of other solutions that may be a better fit for your needs.
What Happens During The Dental Implant Procedure?
There are several phases to this treatment. If dental implants are right for you, the first step will be the actual implantation surgery. This involves the placement of the titanium screw into your jawbone. After this is done, it usually takes between four and six months for the implant to fuse with the bone and develop stability. Our teeth have to be able to stand up to a lot of use to serve us properly. When your dental implant is ready, a custom-made crown will be fabricated for you. This will then take the place of the lost tooth.
Some patients may need to have more than one tooth replaced. Ask your dentist how to use dental implants for support of dentures, partials, bridges and multiple crowns. One reason that dental implants are so popular is that they can be used for so many applications when it comes to replacing teeth and regaining function and health.
What are you waiting for? Call Buckhead Dental Partners today at (404) 261-0610 to learn more about how we can help you replace your lost teeth and regain function and esthetics. Having a full set of teeth can improve your life in ways you may not have even considered. Dr. Ballard look forward to seeing you!
Photo Credit: Identity Station