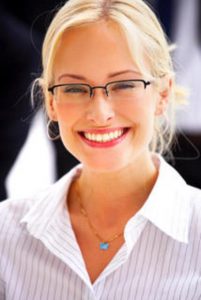 Many people are interested in cosmetic dentistry, but what often turns them off is the price. Cosmetic dentistry can be a bit pricey for the average American. Money doesn't grow on trees; thus, a "want" may not be satisfied by a purchase if the price isn't right. At Buckhead Dental Partners, we know and understand that money is tight. We know that many of you want to have cosmetic dentistry treatments, yet are concerned about maintaining the family budget. We will, therefore, show you the different options available, to upgrade your look without emptying your pocket.
Teeth Whitening for Dull, Stained, Discolored, Yellowish Teeth
Teeth whitening is one of the simplest, easiest ways to improve your look without spending a fortune. There are two ways for us to whiten your teeth inexpensively. You can get our fast in-office treatment with results that can last as long as 5 years. You can also use our at-home whitening solution to brighten the shade of your enamel.
In-office teeth whitening is performed in the dentist's chair. Bleaching gel is applied on the teeth, after which the teeth are exposed to a special curing light. The light and gel combination work to effectively and quickly whiten natural tooth enamel by up to 8 shades.
To maintain your in-office treatment, the dentist may provide you with at-home whitening kits to touch up on your white smile periodically. The kit contains customized bleaching trays and a whitening gel. What you will do is to apply the gel to the tray, and then put on the tray everyday for a prescribed number of hours. This works for effectively maintaining your white smile.
For those who find in-office treatment a bit pricey, at-home whitening kits can also be used as your primary whitening treatment. Regular use of these trays will give you the same whitening effects. At-home teeth whitening is, therefore, your slow but sure method of getting bright, white teeth.
Dental Bonding for Crooked, Gapped, Chipped, Discolored, Cracked, or Misaligned Teeth
If there's one cosmetic dentistry treatment that won't drain your pocket, it's got to be dental bonding. This treatment makes use of liquid composite resin to cover any tooth imperfection. The dentist applies the resin to your teeth, and then sculpts and shapes the resin, to improve the overall appearance of your teeth. The result is a complete smile makeover.
In addition to being inexpensive, dental bonding is also a fast, less-invasive cosmetic dentistry treatment. It is often compared with dental veneers because both treatments work the same way – covering tooth flaws to enhance your smile. However, veneers remove a greater amount of tooth enamel than dental bonding. Veneers also need to be completed via several office visits. Dental bonding can be done in a single dentist's appointment, while it maintains more of your natural tooth structure. Thus, dental bonding is a good option if you want a less costly, fast, and less invasive smile makeover.
Visit us at Buckhead Dental Partners
If you're looking for ways to enhance your smile inexpensively, we have options for you at Buckhead Dental Partners. Come to us, so we can discuss the cosmetic dentistry treatment that best suits your needs and budget. Dr. Jeffery Ballard is a skilled, experienced cosmetic dentist in Atlanta, GA. Give us a call today at (404) 261-0610, so we can get started on your beautiful smile transformation!
Photo Credit: Identity Station